The new year has come and the old year is gone. The world continues to spin I suppose. I celebrated the impending new year with a group of friends and various board games and way too much snack food last night. I actually stayed up until a little after midnight! I'm as shocked as everyone else. We played Phase 10, Cards Against Humanity, and the dreaded Monopoly. Monopoly was actually sort of fun until it dragged on past two hours at which point I was too fried to want anything to do with it. I think I might try and re institute game night as a regular thing. I miss the camaraderie and goodness knows I need the social time with non pregnant people.
Anyway, on to post Christmas traditions. I really only have a few, but my favorites are things like putting together massive, but stunning puzzles:
I love turning this confusing mess of pieces into something like this!
Putting this puzzle together put me in the mood to get another, but I haven't found one nearly as pretty as this one yet. Thanks to the sister for getting it for me for Christmas.
Tradition 2:
Taking down that tree!
That is actually the goal of today. I want to get all my Christmas stuff organized and out up. Good luck to me I know. I don't actually mind leaving the tree up for a week or so longer but I have got to fit some furniture in my tiny apartment that isn't going to fit around my massive tree.
Tradition 3:
Vegetating on my few days off to some horrible television that is probably rotting my brain.
I plan to indulge in that later today during the massive tree bringing down.
Tradition 4:
Buying a new planner and resolving to actually stick with it through the year (which will get lost in the woods at some point during the year, but we shall see). This year, in support of small businesses and because I got a massive Etsy order so I felt good about spending a little money, I got this planner.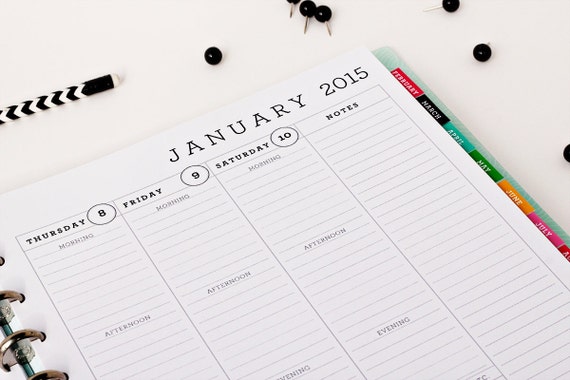 and a few new pens with which to deck it out. I am enjoying getting it year ready and seeing what all the coming weeks have in store for me. Next week I will highlight some blog planners for the new year.
Happy New Year friends. May it be a great one.